If you knew me when I was ten and offered me an empanada for merienda, the kind that's deep-fried and stuffed with savory ground beef and sweet raisins, I probably wouldn't eat it.   If it were a slice of pineapple upside down cake, a Bavarian Crème doughnut, or even a simple hot pan de sal slathered with butter and sprinkled with sugar, then it would be an entirely different story.  I've always had an insatiable sweet tooth since I was a kid and I would never turn my back on anything sweet.  But whenever my mom brought home empanadas for everyone, I would split mine open, laboriously pick out and eat the raisins, and leave everything untouched.
But as I got older, I became more and more fond of the empanada — deep-fried turnovers stuffed with beef, sometimes chicken.  It's a popular, portable merienda, or mid-day snack, in the Philippines and throughout Latin America.   Here in San Francisco, El Porteño's buttery Argentinian carne empanadas filled with Prather Ranch ground beef, raisins and olives closely resemble the ones I grew up with.  Another favorite is Chile Lindo's Chilean empanadas that come stuffed with an egg, which is very similar to Vigan empanadas from the northern part of the Philippines.
Empanadas make perfect hors d'oeuvres.  I made beef and chorizo empanaditas using a recipe I adapted from Amy Besa's and Romy Dorotan's Memories of Philippine Kitchens.  These empanadas are baked and not deep-fried. Chicken, duck, shrimp or crab can be used instead of beef and chorizo.  Sweet empanadas filled with fruits, nuts, and dulce de leche are a brilliant variation.  Too brilliant, if I may say so.  Now, that's my sweet tooth kicking in.
Beef and Chorizo Empanadas Recipe
Recipe adapted from Amy Besa's and Romy Dorotan's Memories of Philippine Kitchens, makes up to 36 4-inch empanadas
For the filling, makes up to 36 4-inch empanadas
1 Tbsp vegetable oil
1 lb ground beef, preferably 80% lean
1 Spanish chorizo, diced
1/2 cup diced onion (one small onion)
1 cup diced carrots (one to two medium carrots)
1 cup diced sweet potato (one medium sweet potato)
1 cup diced Yukon Gold potato (one to two small potatoes)
1/2 cup green peas
1/2 cup raisins
1/4 cup soy sauce
1/4 cup rice wine
3 Tbsp rice vinegar
sea salt
2 egg whites, whisked for sealing the empanadas
2 egg yolks, slightly beaten for brushing
1/4 cup milk for brushing
For the dough, makes one 9-inch pie crust equivalent to 10 to 12 4-inch empanadas
1-1/2 cup all purpose flour
1/2 tsp salt
6 Tbsp chilled unsalted butter, cut into small pieces
1 large egg, beaten
ice water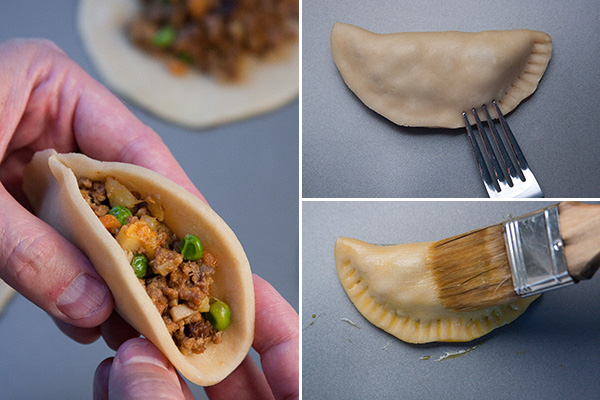 Making the dough
Sift the flour and salt into a large bowl. Cut the chilled butter into the flour mixture with a pastry blender or work it in lightly with the tips of your fingers until the consistency resembles coarse meal with visible bits of butter.  Stir the egg into the flour mixture until fully incorporated.
Pinch off a small handful of dough.  If it does not hold together, sprinkle the dough with ice water. Blend the water gently into the dough until it just holds together.
Place the dough out onto a clean lightly floured work surface and pat it into a disk about half an inch thick.  Wrap the disk in plastic wrap and refrigerate until form, at least an hour or up to two days.
Making the filling
Preheat the oven to 375 degrees.
In a large pan over medium heat, heat the oil. Sautee the onions and carrots until the vegetables have softened, about 5 minutes.
Raise the heat to medium-high and cook the ground beef and chorizo until the meat has browned, about 5 minutes. Add the sweet potatoes and Yukon Gold potatoes. Add the soy sauce, rice wine, rice vinegar, and raisins. Reduce the heat to medium, cover and cook until the potatoes have softened, about 30 minutes. Add the green peas and heat just to cook through, about a few minutes. Taste and add more vinegar and salt to taste.
Assembling the empanadas
Take one disc of the dough from the refrigerator and place it on a clean lightly floured work surface.  Roll out the dough to about 1/8-inch thick.  Using a 4-inch round cookie cutter, cut the dough into circles, saving the scraps. Gather the scraps and roll them again.  Using a spatula or your hand, gently transfer the cut dough to a baking sheet lined with parchment paper.  Ten to twelve 4-inch circles can be cut from one disc of dough.
The dough can be rolled out and cut into circles ahead of time.  Just wrap them tightly in plastic wrap and refrigerate up to a day ahead.
Cup the cut dough with one hand and gingerly spoon 1 to 1-1/2 tablespoons of the filling into the center of the dough. With a pastry brush or with tip of a finger, lightly dab the edges of the dough with egg whites. Fold the dough to form a half moon, enclosing the filling. Gently seal the edges of the dough and crimp them decoratively with the tines of a fork.
In a small bowl, whisk together the egg yolks and milk. Brush the tops of each emapanada with the egg wash. Bake them until they are golden brown, about 25 minutes. Let them cool slightly before serving them warm.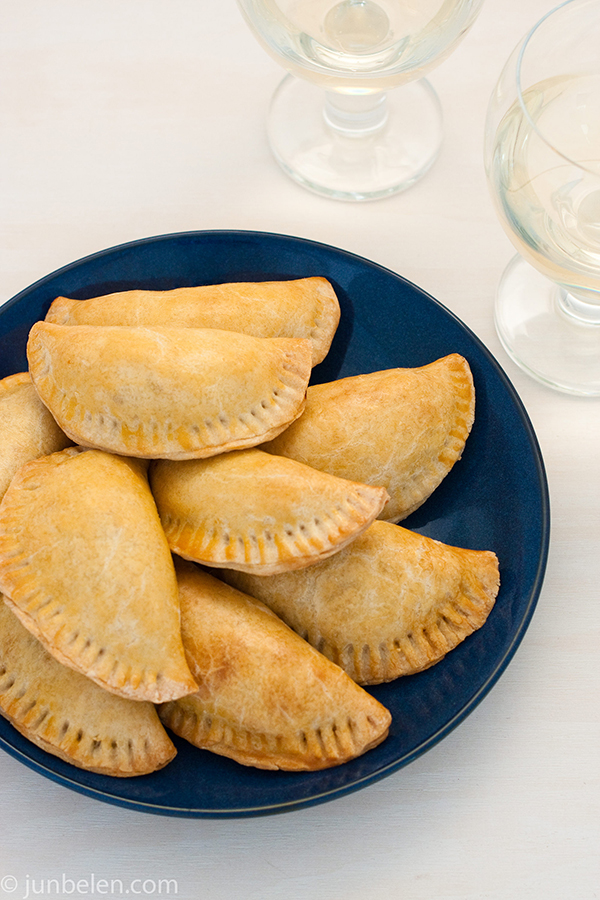 Cooking Notes
1. The recipe for the filling makes 36 4-inch empanadas while the recipe for the pie crust dough makes a single 9-inch pie crust equivalent to ten to twelve 4-inch empanadas. I usually make two dozen empanadas, which needs two pie crust doughs. I use the leftover filling for something else like mixing it with fried rice or using it to make omelettes for breakfast.
2. The original recipe calls for Russet potatoes but I like Yukon Gold potatoes. The recipe also calls for diced shiitake mushrooms.
3. Use the amount of soy sauce, rice wine, rice vinegar, and salt as a guide but feel free to add more or use less. I adapted this recipe from Amy Besa's and Romy Dorotan's Memories of Philippine Kitchens. The original recipe, as written in their book, seriously lacked flavor. The recipe called for three tablespoons of soy sauce and three tablespoons of rice wine and made no mention of salt, which I found too stingy.
4. The leaner the beef, the drier the filling. I recommend using 80% lean ground beef for a moist, more flavorful filling. If the filling becomes a bit dry, I suggest adding about two tablespoons of butter when adding the green peas toward the end.
5. Shredded chicken, a mixture of both dark and white meat, can be used as a substitute for ground beef. Other proteins that can be used instead are duck, shrimp and crab.